This article was contributed by Chris Ritter. He is a Miami born and raised, Harvard educated, architect and illustrator. He has a knack for designing highly functional, aesthetically pleasing, home improvement projects. He is also one of my best friends of almost 30 years and a great guy, with one of the sharpest minds and best wit of anyone I know. We have fished all over the hemisphere together including; Miami, Boston, The Everglades, Pensacola, Islamorada, Nicaragua, Key West, Costa Rica, Orlando and The Tortugas. He and his wife live in a very nice apartment in Boston.
Now that I no longer fish, I am focused on displaying fishing rods (Okay, I fish now and then, but not nearly as much as I'd like to). I decided to make my own rod holders for our place instead of leaving a bunch of nice combos leaning in a corner "Sanford and Son style". We are tight on space, but I had a nice 24″ wide space between the bed and closet to work with. This worked out pretty well though, as I managed to get 15 rods in there with the reels on. It helps to have a higher ceiling obviously.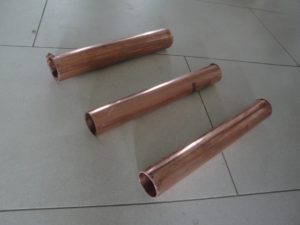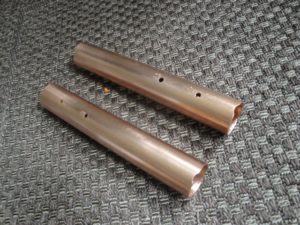 I started off with some 1.5″ diameter copper tubing from Home Depot, cut it into 10″ sections. It comes out rough after cutting, so you've got to file it down and then smooth with a Dremmel so it doesn't tear up your rod butts. Then drill some holes through the front and back, so you can fit screwdriver into tube to attach it to wood backing. File those down as well and file little notch for reel to rest in. Steel wool the outsides of the pipe. It gets them very shiny pretty quickly (about 15 seconds). Then spray them with a quick coat of polyurethane sealant. This keeps them from tarnishing.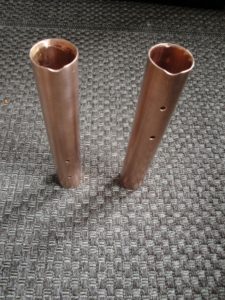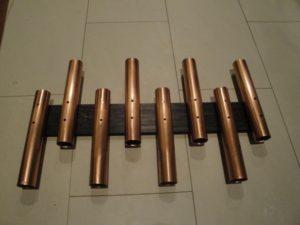 Screw them into black painted wood backings, staggered vertically to fit the reels. Drill anchors into wall, then screw the wood backings into these. It looked pretty cool without the rods, like some kind of a pipe organ. Now I just need to get a bunch of matching reels and rods, so they can look pretty and never be used. The whole thing cost about $80. A fun little rewarding side project.