Restaurants:
Breakfast:
-Made to Order Tavernier
They have a fantastic menu and food. They're pet friendly, on the water, boat accessible, and BYOB. Bring a bottle of champagne. They'll put it in an ice bucket and bring out fresh-squeezed oj and glasses.
–Harriet's Key Largo
Open over 40 years. A little place with lots of charm. Look for the yellow building.
–Midway Cafe Islamorada
A healthy, wholesome and tasty breakfast spot. Like something you'd find in Vermont or Colorado.
–Keys Bite Key Largo
Great service, selection and food. Great Mexican flair as well.
–Mangrove Mike's Islamorada
A Keys favorite, a solid breakfast and a good, key's-style menu.
–Doc's Diner Key Largo
They have a big menu and great food with huge portions. They are very friendly with super service.
-High Tide Key Largo
Fantastic food and service. Killer omelettes. Be sure to get grilled biscuits as your bread and upgrade to hash brown casserole.
-Sunshine Market Tavernier
Authentic Cuban food. Basic breakfast, but with cafe con leche or cafe colada (expresso), Cuban toast and fresh squeezed orange juice, you'll be ready to start your day. They also open early.
-Cafe Moka Tavernier
A quaint and tasteful French coffee shop with a great little vibe. A favorite of the local professional class. Great fresh french style sandwhiches and superb quiche that real men can in-fact eat.
-Over Easy Tavernier
For a higher-end gourmet breakfast and lunch, you've come to the right place. Fantastic food and interesting and creative menu. Not cheap, but worth the cost for sure!
-Harbor Cafe Islamorada
Awesome little spot with fresh ingredients, generous portions and friendly staff!
-Robbie's  Southern Islamorada
Very good breakfast on the water. Solid service. Try the Trailer Park Trash Bloody Mary!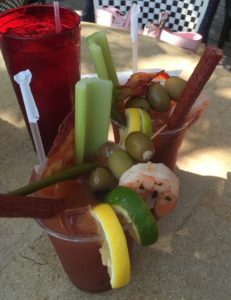 Lunch:
–Lazy Days Islamorada
Featuring very, very, good Keys-style food. They have high-end and expensive dinners, but a very reasonable lunch. Sit outside and you're high-up, over-looking the bright-blue Atlantic.
–Hog Heaven Islamorada
Best burgers in the Keys. Don't sit inside, instead sit outside by water.
-Key Largo Fisheries Key Largo
A working fish house on the water where the fishing boats come in. Needless to say, the seafood is top notch.
-Dockside Raw Bar Islamorada
Downstairs from Old Tavernier. Great little waterfront restaurant. Good food and atmosphere. Beer and wine only.
-D Jao Restaurant Tavernier
Renowned Thai restauranteers brought their concept to The Keys and they did not disappoint. As good a Thai/Sushi place as can be found. wonderful staff, great service. Delicious!
–Bayside Gourmet Islamorada
Fantastic Lunch. Fresh and delicious. Grouper Ruben, salads and soups are to die for. Carrot cake will blow your mind.
-Sunshine Market Tavernier
Cuban Food. Great selection of traditional Cuban food with daily specials. Be sure to try a Cuban sandwich or a media niche sandwich and a Cuban coffee. Especially good for take out as the ambience is minimal.
-Keys Bite Key Largo
Very good and very reasonable lunch with solid service and an extensive menu.
-Twisted Shrimp  Islamorada
Really good food at a cool little spot on US1.
-Ms. Mac's Kitchen Key Largo
A Key Largo staple for years. Good eats. Waffle fries are the best around. Super Fishwhich is my favorite. Two locations.
-Habernos Tavernier
Best Cuban food in the Upper Keys. Located directly on Tavernier Creek at the marina. Very cool spot to sit on the water and people watch and watch the boats go by.
-NumThai Key Largo
A Thai/Sushi place on Key Largo. Excellent from top to bottom. Great lunch specials and robots bring you your food!
-The Raw Bar
On the property of Postcard Inn (formerly Holiday Isle/Tiki Bar) Beautiful bar/restaurant, thirty feet high, overlooking the Atlantic Ocean. Great food and beautiful atmosphere.
-City Hall Cafe Plantation Key
A good, solid local's lunch place with tasty specials. Be sure to get the pasta salad as your side.
-Puerta Vallarta  Mexican Restaurant Islamorada
Fantastic authentic Mexican food. Some of the best there is. Great service, atmosphere and tasty margaritas.
-Calypso's Tavernier
Great little hole in the wall with the best cheese steak sandwiches in the keys. In fact, everything on the menu is top notch.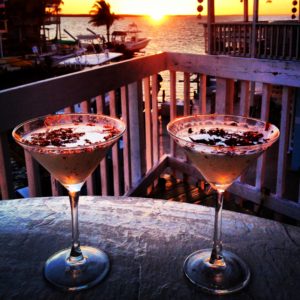 Happy Hour:
-Island Grill Islamorada
Delicious appetizers and two for one drink specials.
-Mandalay Island Grill Key Largo
Tasty, inexpensive appetizers and drink specials.
-Lazy Lobster Key Largo
Excellent happy hour. Lots of great apps and half price drinks
–Wahoos Islamorada
Go to the long and narrow upstairs bar (not the restaurant). It is open-air and catches the breeze. Sit and enjoy the comings and goings of the Whale Harbor fishing fleet and a spectacular view of the Atlantic. Good appetizer selection and drink specials. Be sure to get the hand-muddled Margarita!
-Mar Bar Islamorada
Cool little local favorite off Tavernier Creek. Known for stone crab claws and ice cold beers.
-Skipper's Key Largo
A great spot. Great atmosphere and service. Friendly staff.
-Green Turtle Islamorada
A Keys landmark for over half a century with a very nice setting and top-notch food & service.
–Whale Harbor Sand Bar Islamorada (weekends only)
Upstairs from the brand new Whale Harbor Restaurant. Sit and sip a cold drink from high up with a GREAT view of the channel, flats and the Atlantic.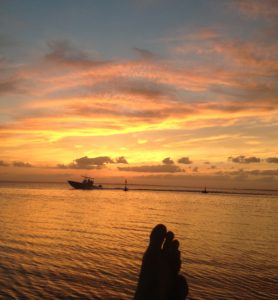 Sunset:
-Sundowners Key Largo
-The Big Chill  Key Largo
-The Lorelei Islamorada
The most famous sunset in the Upper Keys, featuring live music, local artists, beach seating and dining. Two bars including a waterfront tiki bar.
-Morada Bay Islamorada
Beautiful setting. Beachfront bar and dining. Live music.
-Pierre's Islamorada
A great French restaurant next-door to Morada Bay on the north side. The building and bar are beautifully crafted and decorated with excellent art and hardwood. Martinis are super, but not cheap. Outside couches on the beach are nice and cozy.
-Zane Grey Islamorada
Next door on south side and upstairs from World Wide Sportsman. A very nice place with fish trophies and historic fishing relics on walls. It's got the feel that Ernest Hemingway may walk in any minute. Good cigar selection. Nice view on balcony.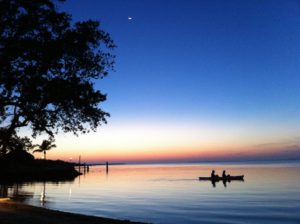 Marker 88 Plantation Key
Fantastic beach and bar seating. There's a great view with a dock you can tie up your boat or walk out on. It's pet friendly.
Dinner: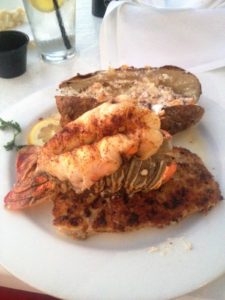 –Island Grill Islamorada
Great location, right off Snake Creek. Great little beach you can sit on and eat. Known for their great hogfish sandwiches. Be sure to try the tuna nachos.
–Pilot House Key Largo
Well-done, waterfront dining. Good food. It features a unique bar with a glass floor and illuminated water. There are slots at the bar to drop food to the many fish underneath you.
-The Fish House Key Largo
Great Seafood. Stellar service.
-Sundowner's Key Largo
Top notch Keys cuisine with a beautiful waterfront setting. What's not to love?
-Bayside Gourmet Islamorada
Absolutely fantastic food with an Italian flair. Great seafood. Super-friendly staff. Lobster bisque is delicious!
-Num Thai Key Largo
Surprisingly good Thai cuisine and sushi.
-Snappers Great atmosphere and a nice view of the Atlantic.
-Old Tavernier  Tavernier
An Upper Keys tradition. Splendid place. Very good food. The bar area where you first walk in is a very cozy atmosphere and where I always eat and drink. Their pizza is not on the menu, but is the best around. You can get it to go as well.
–Key Thai Key Largo
A Sushi/Thai place on Key Largo. Excellent from top to bottom.
-Alfredos Key Largo
Your basic, run-of-the-mill Keys restaurant setting, but with fantastic food! Biggest and best tuna nachos in the Keys, great seafood and good Mexican dishes. Full bar service.
-Dockside Raw Bar Islamorada
Downstairs from Old Tavernier. Great little waterfront restaurant. Good food and atmosphere. Beer and wine only.
-Dillon's Pub Tavernier
A local's favorite! Really tasty, very reasonably priced food. Good sports bar.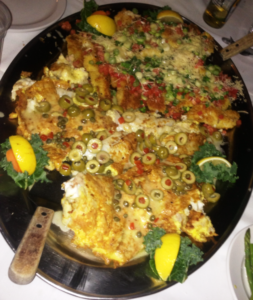 High End, Good Eats 
-Chef Michael's Islamorada
-Kayo Grill and Sushi Islamorada
-Lazy Days Islamorada
-Pierre's Islamorada
-Ballyhoos Key Largo
-Ziggy & Mad Dog's Islamorada
-Bayside Gourmet Islamorada
-Lazy Days  Islamorada
-Square Grouper Islamorada
-Marker 88 Plantation Key
-Snappers Key Largo
-Island Grill Islamorada
-Pilot House Key Largo
-Fish House Key Largo
-Ballyhoos Key Largo
*Hook & Cook: Bring Your Catch and They Cook It! Almost every restaurant in the Keys will cook your fish. Bring them your filleted fish, pick the preparation and sides, and enjoy!
Fun and Not So Fancy Options
-Shipwrecks Upper Key Largo
One of the last of the dive bar/restaurants in the Upper Keys. Great food, nice spot on the water, semi-reasonable prices. Whats not to love?
-The Caribbean Club Key Largo
Where they filmed Bogart's classic, 1948 film, "Key Largo". Fun spot on the water. Lots of live music, cold drinks and seedy folks.
-Sharkey's Key Largo
One of my favorites. A popular scuba diver's bar on an active salt water canal. Extensive menu and everything on it is good. I usually sit outside, looking out over the water and listening to the occasional live music.
-The Ocean View (The OV) Islamorada
An old smuggler's den on the water. Now it's a fun, no frills sports bar. I usually sit out back. it's got basic bar food, but everything is good.
-The Whistle Stop Islamorada
An iconic Islamorada hot spot that had quite the reputation in the old days. Now its just a fun place to drink, play pool and stay out late.
To Do:
–World Wide Sportsman Islamorada
Shop and look around. Be sure to check out the big fish tank and Hemmingway's boat. Grab a cold, $2 beer at the bait shop outside or go upstairs for a drink.
Holiday Isle (Postcard Inn) Islamorada
Lay out, drink at one of the three bars, rent jet skis, swim in the pool, people-watch at the beach.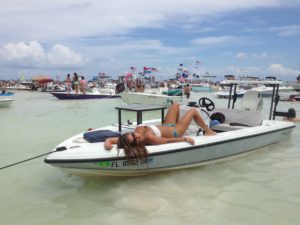 -The Sandbar in front of Tiki Bar (Postcard Inn) Islamorada
Park a boat, kayak or paddle board at the sandbar. Relax, people watch, swim, drink beer.
-Rent Paddle boards and Kayaks at various places.
-Parasail at various places throughout the Keys.
–Island Dolphin Care Key Largo
-Dolphins Plus Key Largo
–Theater of the Sea Islamorada
–Turtle Hospital Marathon
A cool place dedicated to rescuing and rehablitating endangered turtles and other creatures.
-Founders Park Islamorada
A large community park with soccer fields, a dog park, a track, a pool, a skate park, a marina, a boat ramp and a beach.
-Robbie's South Islamorada (mm 79)
Get a bucket of fish, feed the giant tarpon and watch people's reactions to them. Sit at the cool little bar there and take in the scene. Awesome time! Check out the artist village as well.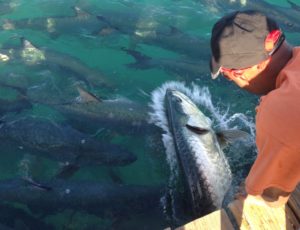 –Rain Barrel Islamorada
You cant miss the enormous lobster out front.  A cool little local artist village.
-Shell World Key Largo
Shop for souvenirs and gifts.
-Eddy's Bait & Tackle Islamorada
Pick up some shrimp, go find a bridge and soak a bait for an hour.
-Key Largo Princess Key Largo
A neat way to see the reef. Do not go if the weather is rough. It is a flat bottomed boat as well as a glass one.
-Anne's Beach South Islamorada.
Nice little spot. Nothing fancy. Dog friendly.
–Wild Bird Sanctuary Key Largo
A place worth seeing with lots of resident and rehabilitation local birds. Beautiful grounds and friendly and informative staff. Tours are free, but donations are appreciated.
–Snorkel Pennekamp State Park Key Largo
-Florida Keys Brewing Company Islamorada
The Florida Key's first brewery. Head in and enjoy a couple of their nine fantastic, hand crafted beer. Relax in the funky bar and chat with the husband and wife proprieters while you sip your suds. Cant decide which one to try? Get a sampler with four ounces of each.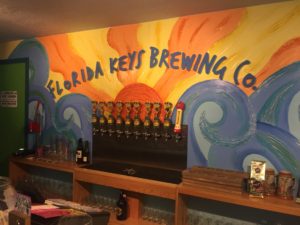 -Founder's Park Islamorada
Nice, big park with fields, baseball diamonds, pool, skateboard ramps, docks, gazebos and beach.
-Blonde Giraffe Key Lime Pie Factory Tavernier
You can not visit the Florida Keys without having some Key Lime Pie! I'm not going to say it's better than my mom's, but it's damned good. Get a slice, a whole pie or even on a stick!
–Key Largo Yoga Key Largo
Two locations. Great facilities and instructors. Check their schedule on line.
-Key Largo Fisheries Key Largo
Best fresh seafood market in the Upper Keys. Eat there and then bring some home with you!
-Discovery History Museum Islamorada
Really well put together and interesting little Keys history museum located on the beautiful Islander Resort property
–Full Moon Party at Morada Bay Islamorada
It's held on the beach on the Saturday nearest the full moon. Do not miss it. There is an admission cost, but it covers a gorgeous setting, live performers, a band, Bahamian Junkanoo parades and a super fireworks show.
–Spa Day
There are great spas in the Upper Keys. Cheeca Lodge and Playa Largo are the nicest.
-Islamorada Art Walk Near Kayo and Chef Michael's Islamorada
Third Thursday of Every month.
-Keys Cable Park Grassy Key
Wakeboard without a boat! Great, friendly staff and super-cool vibe at this one of a kind location. Novice? No problem! The guys and gals there will get you on your feet and on your way!
-Fish with Captain Dave Perkins Tavernier
Back Country and Ocean Charters