My Boats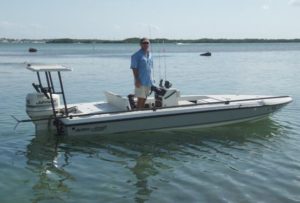 I run an 18 foot Action Craft skiff  for my backcountry, bay, flats and Everglades National Park trips. This boat can pole quietly into 10 inches of water, but is still a very dry, well handling and stable fishing platform. Action Craft is one of  the most popular boats used by professional guides in all of South Florida. I love this boat and take pride in keeping it very well maintained and in top shape. It sports a 2015 Yamaha four-stroke engine for a quieter, faster and more efficient ride.
* For most trips on the 18′ Action Craft, we will be fishing in Everglades National Park. Visitors should go to www.yourpassnow.com and get an individual pass for The Park. They are $15 per person or $30 per vessel and they are valid for seven days. Active military and children 15 and under are free.
I also run and 26 foot Mako center console with a 2014 Yamaha four-stroke engine for reef, edge and offshore fishing. This is a classic hull design and totally made for fishing. They don't make boats like this anymore. She handles the seas well, there's plenty of room and the view from the tower is amazing.