One of my favorite past times is catching shrimp. Not only are they my favorite food, they are a heck of a lot of fun to catch. Subsequently, several of my close friends and I have shrimp fever. There is no exact science to when they run, but in the Florida Keys, it only happens in the winter months. They make their move from Florida Bay to the Atlantic through cuts at night on the out-going tide. They tend to run on stronger tides and during cold fronts. Sometimes they run for no apparent reason and other times they don't run when you think they should. Its more of a game of hunches than an exact science.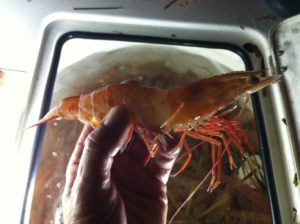 If you put the time in, get lucky and get it right, you can do well. We use pole nets and submerged lights and catch the shrimp as they float by in the outgoing tide. Recreational fishermen are allowed one 5 gallon bucket per boat. That is a lot of shrimp. Cleaning and peeling them can be laborious, but it is definitely worth the effort. They are the tastiest shrimp you'll ever eat. They couldn't be fresher and they're not 'twice frozen' as most grocery store shrimp are.
A few years ago I posted a video of one of our hauls on YouTube. It has since received over 7,000 hits. Last week I got a call from a gentleman named Dean who had seen the video. He has a vacation home in the Keys, but had never heard of shrimping here. He said, " We've been fishing, lobstering and even scalloping, but never shrimping. We have some friends coming in town from Minnesota and we'd love to give it a try and learn how it works. Would you take us?" I explained to him that you had to get out during the outgoing tide and that though the time of year and the moon were right, they may or may not run. He said they'd love to get out and give it a shot. I told him I'd call him in the morning and let him know what time to be at my place.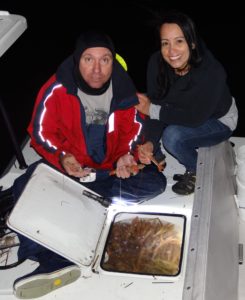 That night I checked the tide tables and even went out to the cut to check the tide to be sure. It began going out at 10:45 pm. The next day I called Dean and told him that if they would be okay showing up to my dock at 10:30 that night, we could go out. I pulled out my underwater lights, flashlights, spot lights, batteries and other gear and checked my nets. I also got my fishing gear ready so that we could fish while we were waiting, or in the event that they didn't run. I gassed up my boat and got everything ready for the night's trip.
When they got to my dock we loaded up and headed out. I was a beautiful evening. The temperature was very pleasant and there was a nice breeze. The moon was one night from full and it cast distinct shadows on the deck of the boat.  We did a reconnaissance trip through the entire cut, probing the dark water with a spot light. I circled back to a spot that seemed to have the strongest current and an up-welling.  There was also a lot of fish activity with splashes, busts and hundreds of mullet. We even saw a nice-sized tarpon.
The current was just beginning to trickle out. I aimed the boat into it, picked a spot and dropped the anchor. After we came tight I set up the spare battery and plugged in and put out my underwater lights. It was time to wait for the current and the shrimp. In the mean time I started setting my clients up with rods. I had a live shrimp on one, a live pilchard on another and on two of them I had Gulp Crayfish with 3/8 ounce yellow jig heads. I had two people using the artificials, casting from the bow of the boat and two with live bait drifting them in the stern. Meanwhile there were constant noises on the surface of the water from bait schooling and moving and an occasional crashing as a predator busted bait.
The anglers using the Gulp baits soon began catching ladyfish, jacks and snapper. For the most part the live shrimp were being picked off of the hook and the pilchard was getting no attention at all. I changed those rigs so that everyone was using artificial. The shrimp had not started to run, but there was steady fishing action. I was constantly unhooking fish and occasionally replacing worn out bait. At one point a porpoise came under and near the boat. He was darting around, occasionally exhaling loudly and crashing mullet. The bite slowed down some while it was in the area, but it was neat to see it having a good time doing its thing.
The porpoise wandered off after a while and the bite began to pick back up. One of the guys on the boat, Brian, seemed to really have the knack and was catching fish one after the other. I was in the stern of the boat unhooking his fish and chatting with him. He and his wife Joyce had just climbed Mt. Kilimanjaro and he was telling me about it. He was popping his jig in the current. Suddenly he had a huge hit on his rod and the line began screaming out at an alarming rate. Brian kept the tip up and steady pressure, but we both knew that he was into a very big fish and we were in for a heck of a fight.
He was fishing with a Star 6-12 lb rod and a Shimano 4000. The line was 20lb Fireline braid with a 20lb fluorocarbon leader. We were definitely outclassed by whatever it was on the end of that line. The fish made lightning fast, power house runs down current. I thought that any minute it was going to get into the mangroves that lined both sides of the cut. Brian had settled into a rhythm of pumping the rod slowly up and then reeling steadily down. Unfortunately, it seemed that all of the line he would gain would be taken back out in the fish's locomotive runs.  At one point I said, "Just so you know, there's a very good chance that we're going to lose this fish. Do your best to keep it in the center of the channel if you can."
Suddenly the fish did an about-face started to swim right at us. Brian reeled as fast as he could as the fish came to and then past us. It seemed to get another burst of energy as it now headed into the current. Brian held on for dear life as the runs became increasingly powerful and fast. We were about a hundred yards from the bay side mouth of the cut and I realized that the fish was making a dash for open water. I had no choice but to give chase. This was no easy task in a current, at night, in a 26 foot boat, with four lights in the water and four long shrimp nets in the rod holders.
I climbed the tuna tower, started the boat, asked Brian to work his way to the bow of the boat while Dean pulled the anchor. We began following the fish up the channel while my angler reeled for all that he was worth. By moonlight it was difficult to see the rod tip. At one point I went too far forward and the line became slack. Everyone aboard thought the fish had gotten off, but I said "Keep reeling, keep reeling!" Thankfully the line came tight and the fish was still there. After a minute or so I turned on my spot light and aimed it into the water. The fish lit up like a road sign and it was ENORMOUS.
"Keep it tight, I'm coming down!" I said, as I raced down the tower ladder. I grabbed a shrimp net as he pulled the fish closer. "This is going to destroy the net, but we don't have a choice."  I put the net under the fish, grabbed it by both rims, hauled it in and laid it on the deck. It was a behemoth permit! The biggest I had ever seen caught in my 20 years of targeting them. We stood in amazement and just stared. It was beautiful! I lifted the fish out of the net, unhooked it and picked it up. I had Brian and Joyce pose for a few photos with it. As soon as they were taken, I brought the fish to the side of the boat; kissed it on the nose, put it overboard and began to revive it. It wasn't necessary. It kicked its tail viciously, splashed water all over me and was gone. What a fish!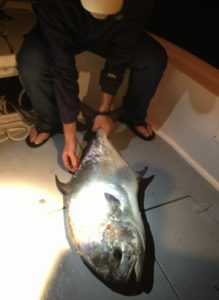 We were all elated after such an exciting fight and catch. Everyone was especially pleased when I explained what a trophy fish we had just landed. The pictures had come out well and we were happy. The shrimp however, had still not run. We had yet to see even one. The porpoise had returned and it was getting late so we decided to pack it in. We pulled in the lights, stowed our gear and headed home. The shrimp had not made an appearance this time, but we got to enjoy a spectacular evening on the water and come face to face with the fish of a lifetime.